Christmas at Wilderness Lodge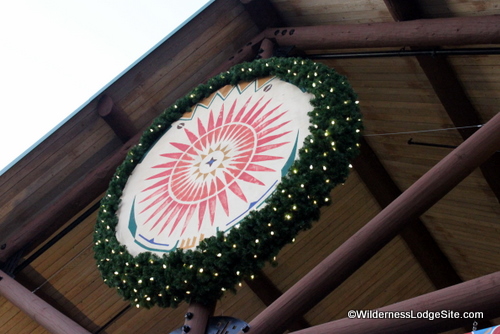 Wreath above porte cochere
Christmas decorations at Wilderness Lodge are a sight to behold. Even before you enter the lobby, you'll notice the huge native American-inspired wreath hanging above the porte cochere outside.
Once you enter the lobby, the first thing you'll notice is the massive Christmas tree sporting tee-pees and other native American ornaments.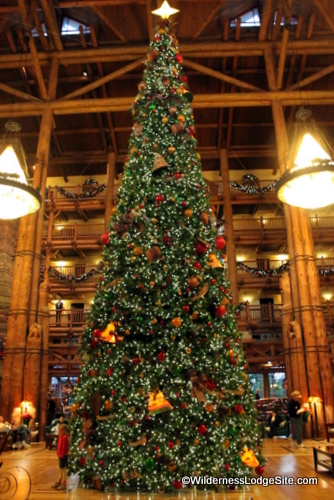 Wilderness Lodge lobby
Christmas tree
Note the use of plaid ribbons in many of the decorations throughout the lobby. There is also a smaller wreath with a moose antler as its centerpiece.
Toward the back of the lobby, you'll also find a family of bears frolicking next to the bubbling headwaters of Silver Springs.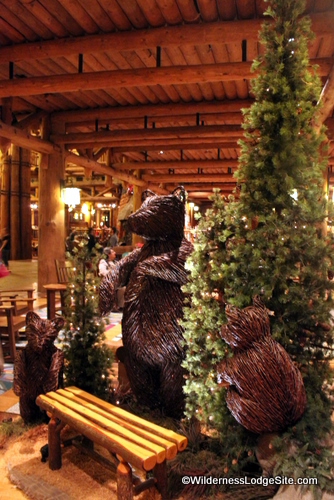 Family of bears
When you're leaving, don't forget to look up to check out the decorations set up above the exit doors.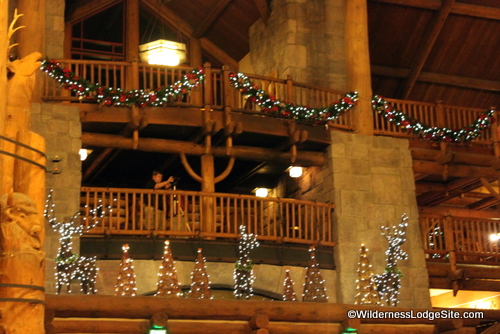 Lobby decorations above exit doors
To see more holiday photos from the Wilderness Lodge in 2010, check out our lobby photo gallery!
And, be sure to check out resort Christmas decorations at some other Disney World resorts: Caribbean Beach Resort, Animal Kingdom Lodge and Contemporary Resort!
Do you love Disney's Wilderness Lodge? Join fellow fans over on our facebook page and follow us on our twitter feed @DisneyHotelsFan!